There are a wide variety of vertical garden kits, from framed wall planters to indoor gardens to completely irrigated systems. They come in many sizes, and some can be arranged side-by-side to easily create a large living wall. Below are 9 popular vertical gardening kits and the advantages of each.
Planter with Irrigation & Drainage Built In
Gronomics Vertical Garden Kit



$245-255
Measuring almost 3 feet by 4 feet, this is a large vertical garden that resembles a pallet garden. The main difference is that all of the structure, irrigation and drainage is already installed for you. Extra sun-loving plants that may need more space can even be grown out of the top of the container.
Factors to consider when choosing plants: besides the visual element of your garden, Rosemary Alexander, author of The Essential Garden Design Workbook, says that gardeners should think about the non-visual qualities of plants, such as scent, sound, tactile appeal and of course food production.
Simple, Lightweight Vertical Planters
Florafelt Living Wall Planter



$160-170
Florafelt is an indestructible nylon felt that is very lightweight – the entire 2 foot by 3 foot vertical wall garden weighs only 1.5 pounds. The special fabric helps with drainage and keeps plants healthier.
This planter includes separate pockets, ideal for herb gardens or varieties that you want to plant separately.
Wall Planter Concealed by Plants
Easy Living Wall with Liner



$45-55
This container has a metal frame with a fibrous liner that keeps the soil and plants contained. This unique design features 9 front slots where you can insert plants and also 6 additional slots on the sides where you plant even more.
You can also arrange multiple planters side-by-side to create a large living wall effect.
Upright, Stand-Alone Flower Towers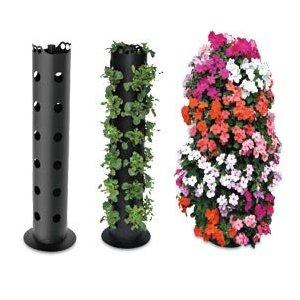 Flower Tower Kits



$25-35
Towers are a popular way to grow a free-standing vertical garden without the need of a wall or fence. They are sometimes called "garden sticks", and you can build your own using a 6″ pvc pipe from your local home improvement store.
What's cool is that you can buy a flower tower kit in small sections that attach to each other to achieve the height you want. They come with pre-drilled holes and irrigation hose already in place. This means easier construction and set up.
Garden with Removable Planter Containers
Algreen Vertical Garden


$75-95
This design has a trellis backing and "shelves" that you can slide out for easy planting. Hang it on a fence or set it up a stand-alone planter in the backyard.
It's easy to re-arrange the inner containers depending on the plants you are growing, and you can remove containers entirely for cutting herbs in your kitchen or replanting.
Indoor Vertical Gardening with Automatic Watering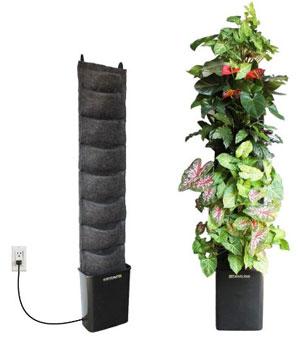 Florafelt Indoor Planter


$199-225
This diy vertical garden measures over 5 feet tall and contains 8 separate pockets. It's designed to be used indoors or outdoors with a completely contained and automatic watering system.
Water re-circulates throughout the garden from a bin at the base via an automatic timer. No mess and less work.
Self-Irrigating 3′ x 2′ Vertical Garden
Waterproofed Planter with Finished Frame


$45-55
Plant your favorite greens in this custom water-tight frame that has an innovative self-irrigating system and excess water reservoir.
Hardware is included for fast and easy mounting on your wall. This finished design can give your wall a sophisticated look without all the work.
Small Framed Vertical Gardens for Indoors/Gifts
GroVert Planter with Wood Frame Kit


$75-95
This finished vertical garden design includes both an irrigator and water collector plus a protective moisture mat, so you can hang this framed garden indoors or out. With very little work, you can make a unique gift or a work of art for your own wall.
TIP: Debra Lee Baldwin, author of Succulent Container Gardens, chooses one succulent as a focal point and positions it off-center for more interest. Then she repeats colors and textures throughout the garden.