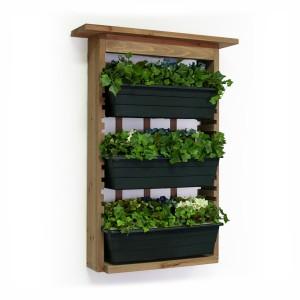 Sometimes it can be nice to have a vertical garden where you can actually take out the planter boxes when you want to clip herbs, prune plants, water containers or replant your garden. Having a garden that you can disassemble also makes it easier to hang and move.
The Versatility and Benefits to a Garden with Slide-Out Shelves
In addition to being more versatile and mobile, this type of vertical garden typically has containers that are upright, which means that you don't have to worry about dirt spilling out. If you ar growing a larger or taller flowers or herbs, some people prefer to remove one or more of the planter boxes to provide extra room for plants to grow. Having the ability to grow taller varieties is an advantage to this type of garden, since many vertical gardens require smaller plants.
It's Designed More for Function…
Since plants face upward instead of outward, this style of garden is designed more for function than for look. That is, unless you plan to grow a trailing-type variety that hangs down over the edge of each box.
But You Don't Have to Use it That Way…
In this case, the look can be quite interesting because generally you have an enclosed frame that gives your garden a finished look. With two or three gardens aligned together with similar or contrasting plants or colors you can create a nice focal point on a bare outdoor wall – for very little money.
Algreen Vertical Garden with Slide-Out Planters
This planter can be mounted to a wall or a fence, or you can even use it freestanding. It's great for herb gardens or any plant that you regularly clip or containers that you want to move around. The wood frame is approximately 32.5 x 11.5 x 8 inches and has 3 planter boxes that you can slide in and take out using the pre-set slots.
About $70 and ships free!