Gutter gardens are becoming very popular, especially among urban homeowners who want to grow their own food but have limited space.

Planter construction is fairly simple, and the materials required are inexpensive and can be found at your local home improvement store.
Even though there are lots of benefits to this style of garden – what if you don't want to buy the supplies and spend the time building your planter? Or what if you don't have the tools required to do so?
Easier Alternative to Building a Gutter Garden:
Well, I just came across a great alternative. It's a 3-Row Vertical Planter. Essentially, it consists of 3 gutter-like planting containers attached to a back support. You can easily connect them to any fence, wall or stand-alone structure.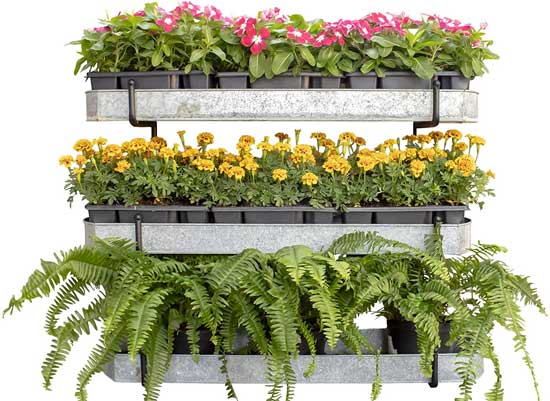 My Experience Making a Gutter Garden:
If you've never build your own garden out of gutters from scratch before, you might not realize how special this system is. When I constructed my first rain gutter garden, I realized that in addition to the gutters themselves, I needed to purchase end caps and support pieces (which ended up costing more than the gutters). I then needed to seal the end caps with special (not cheap) glue which ended up leaking anyway.
The project was not as simple as I initially assumed, and I made plenty of mistakes along the way. Now, looking at a pre-made "gutter garden" kit, I can appreciate the simplicity of the project and limited guesswork that can lead to wasted time and costly mistakes.
Of course, you are one type of person or the other: (1) the gardener who wants to take on the challenge and do it yourself or (2) the person who prefers to get the job done quickly so you can get on to gardening. I don't need to sell you on this type of vertical garden system – you either like it or you don't, right?
Some Things to Note:
In addition to being a simple install, these planters are made of durable and low maintenance chemical wood (a composite material made of eco-friendly and sustainable components). Don't worry about rust, rot, termites, etc…
They also have a nicer, more natural look than regular plastic gutters, so they can actually add to the exterior appeal of your home (as if providing fresh organic fruit, herbs and vegetables wasn't enough!).
It's a Little Deceiving…
I think the photo of the 3-level planter is a little deceiving. It's 3 feet in length, which is no small garden.
Position 2 of these kits together, and you've instantly got a 6-foot long garden 3 levels deep. That's plenty of space to grow lots of greens year-round, but with this system, you can easily add more units above, below or side-by-side, depending on the space you are working with.
Dimensions: 36″ L x 8″ D x 25″ H
Weight: 30 lbs
Tips for Creating a Lush, Designer Living Wall:

Arranging your planting containers in rows enables you to more easily create a lush, living wall with the right plants. Choose foliage with large leaves that fill out and cover maximal space, like ferns, spider plants and hosta. Combine them with trailing plants like ivy or vinca, and you can quickly cover the planter itself – not to mention the entire fence or wall.
Alternate rows or sections by color or plant variety and choose leaf shapes that contrast each other. This will help you create an artistic design without having to be a master gardener. Keep in mind, however, that plants grown together should be compatible as far as sunlight and water needs.
Another cool thing that I like about long vertical gardens such as this is that you can easily install an automatic drip system the length of the planter and keep it completely out of sight. This efficient type of watering system keeps your plants healthy and thriving without a lot of work, plus keeps it looking neat and organized at the same time.
If you have a small patio, deck or side yard with limited space for growing food or plants, don't be discouraged. A DIY vertical garden like this one make it really easy to grow all the flowers, herbs, food and greenery that you want – just make sure that your backyard, front porch or side wall gets some sun.
Get more information on the City Garden Vertical Garden Kit