You can get a variety of different vertical garden kits. Plus, you can use some in multiples to create bigger living walls. Below are the top 9 vertical gardening kits.
1. GreenStalk Vertical Garden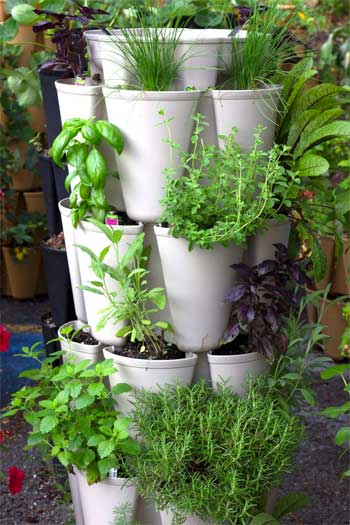 GreenStalk Stacking Planter


This stacking planter contains 30 separate growing compartments, so it works really well for herb gardens, lettuce, strawberries, etc.. In addition, it has a 360-degree design, so you can view it from all angles.
I also like the efficient built-in watering design that this planter has. For instance, you just water the top, and water trickles down evenly to each compartment.
Overall, you get a high-capacity planter that takes up very little space. Not to mention, its ultra-low maintenance.
2. Lightweight Pocket Planters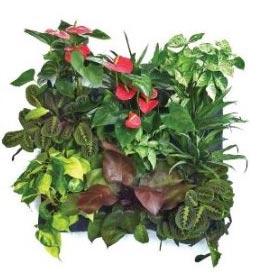 Multi-Pocket Wall Planter


Pocket planters are cheap to buy, easy to install and versatile to use. Plus, their lightweight, durable and breathable fabric provides a healthy living environment for plants and their roots.
However, they are designed for outdoor use only, because water can leak out through the fabric pockets. In addition, soil can dry out faster. So, if you want to increase moisture retention, just line the pockets with plastic (ie. sandwich bags, cut-up trash bags, etc).
3. Mr Stacky Self-Watering Smart Farm
Hydroponic Lettuce Garden Kit


Do you want to grow leafy greens at home – but you don't have a large backyard or lots of time? The Mr Stacky Smart Farm vertical lettuce garden includes almost everything you need. Plus it makes gardening and "home farming" super easy.

This all-in-one starter kit virtually runs on its own. Plus, you can grow 20 different plants, including berries, vegetables and squash in a very small space.
4. Freestanding Vertical Garden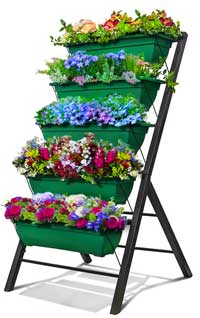 5-Tier Ladder-Style Planter


This freestanding planter stands over 4 feet tall and enables you to grow herbs, vegetables, succulents or other foliage in a small vertical space. Plus, you don't have to attach it to a wall or fence.
The unit basically unfolds and sets up very quickly and only takes up about 6 square feet of space. As a result, this non-permanent structure works perfectly for apartments with small balconies, patios or side yards.
Furthermore, the unique, angled design gives this vertical garden a modern, contemporary look. You can use it indoors as well as outside, plus you can buy the planters in different colors.
5. Wall-Hanging Planter Kit

Wall-Mounted Garden Planter


If you want to easily remove planter baskets when you want, check out this wall-hanging planter kit. It comes with a sturdy black metal frame and 6 removable planter baskets.
In addition, each container includes a root/drainage tray to keep plants healthy and thriving. You can also use this vertical garden inside or outdoors because it comes with removable drain plugs.
6. Wood Slat Wall Garden Planter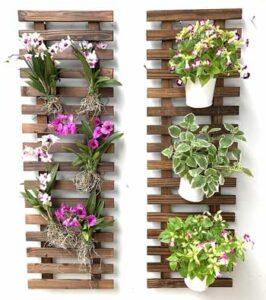 Wall-Mounted Wood-Slat Planters


This slatted wood kit provides a sure easy way to hang flower pots on a wall. The slats give you a sophisticated backdrop that turn plain flower pots into an eye-catching arrangement. Plus, this DIY project requires very little effort!
This packages doesn't come with plant containers, so you can choose whatever style or color you like. Alternatively, we show you some ideas for easy self watering planters with hooks. Therefore, you can buy all the materials you need at once (and maybe even save some money).
7. Self-Watering Vertical Garden Kit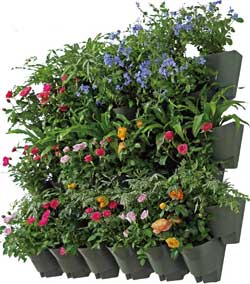 This "self-contained" wall planter comes with 3 pots that contain 3 pockets each (for a total of 9 plant pockets). Their low profile and dark green design enables foliage to grow over and cover the pockets so that you can't see them.
Plus, their lightweight, durable construction allows you to simply nail or screw them directly into a fence or wall. And, the upper planters irrigate the lower pockets with their trickle-through design. As a result, they are quick and easy to install and use.
In addition, the self-watering system keeps plants healthier while giving you a low-maintenance living wall. Get multiple kits to create a taller or wider living wall. Note: designed for outdoor use, as bottom containers don't hold excess water completely.
8. Small Framed Vertical Gardens for Indoors/Gifts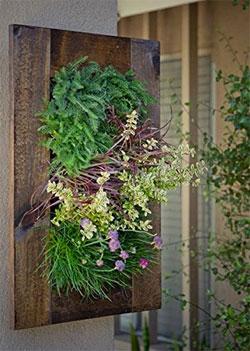 GroVert Planter with Wood Frame Kit


This finished vertical garden design includes both an irrigator and water collector plus a protective moisture mat, so you can hang this framed garden indoors or out. With very little work, you can make a unique gift or a work of art for your own wall.
TIP: Debra Lee Baldwin, author of Succulent Container Gardens, chooses one succulent as a focal point and positions it off-center for more interest. Then she repeats colors and textures throughout the garden.
9. Upright, Stand-Alone Flower Towers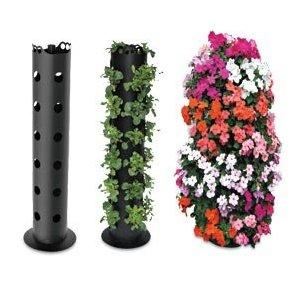 Flower Tower Kits


Towers are a popular way to grow a free-standing vertical garden without the need of a wall or fence. They are sometimes called "garden sticks", and you can build your own using a 6″ pvc pipe from your local home improvement store.
What's cool is that you can buy a flower tower kit in small sections that attach to each other to achieve the height you want. They come with pre-drilled holes and irrigation hose already in place. This means easier construction and set up.