Do you want to grow plants vertically without having to hang a planter on a wall? Check out this freestanding vertical garden that stands on its own and can hold a ton of plants.
What are the Advantages of this Freestanding Planter?
In addition to saving space and being really functional, this stand-up planter has a sleek, modern, look to it as well.
It can add style to your backyard while simultaneously supplying you with fresh produce. =)
In fact, you can grow flowers, vegetables or herbs in (5) 2-foot planters while only taking up about 4 1/2 feet of ground space. This gardening system works really well on a balcony, small patio or even a front porch.

Plus, this vertical garden kit requires virtually no assembly. In other words, you don't have to spend hours building a structure, nor do you have to find a wall or fence that can support your planter.
Note: By the way, this ergonomically-designed planter box system makes gardening much more enjoyable for people with bad backs. If you don't like to stoop down, bend over or kneel when caring for your plants, this freestanding vertical garden may solve your problem!
This Freestanding Vertical Planter Requires Minimal Maintenance:
First of all, this vertical garden has a self-watering system built in. The cascading drainage system allows water to flow from the top planter to the bottom planter.
In addition to conserving water, this function eliminates the problem of stagnant water that can lead to unhealthy plants.

Second, you can quickly remove the bins from the frame. Therefore, if you need to empty out or re-arrange the content, you can do so at a gardening bench.
Not to mention, when the frame is free of planters, it becomes very lightweight and effortless to move.
Specs for the 4-ft Freestanding Vertical Garden: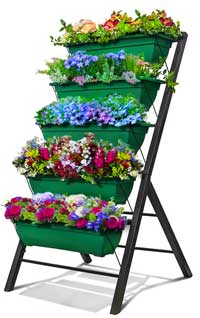 Frame Size: 49″ Tall x 29″ Wide x 26″ Deep
Planter Size: 23.4″ Long x 7.9″ Wide x 6.3″ Tall
Planter Soil Volume: 1/2 Cubic Foot
Weight: 20lbs
Color: Black Frame with Green Bins
Frame Material: Powder Coated Steel
Bins: Food Grade Safe Plastic
Package Includes: Plant Stand, 5 Bins
Model #: 310
Manufacturer: Outland Living
Manufacturer Phone: 1 (888) 514-1663
Note: You can buy this vertical garden in multiple packs (single, 2-pack and 4-pack). Therefore, if you want to grow an entire vegetable garden or create a 4-foot tall privacy screen, these freestanding systems give you an easy way to do it.
…Or Get a 6-Foot Tall Vertical Garden Planter:

Alternatively, you can buy s similar style freestanding garden planter that measures 6 feet tall instead of 4.
Therefore, if you want a taller privacy screen or simply want to grow more plants in a small footprint, this may give you a better option.
This version only includes 4 planters instead of 5. However, each planter box has almost double the space of the bins above. In other words, it can hold a total of 4 cubic feet of soil as opposed to 2.5 cubic feet.
This model only costs about $20 more than the 4-foot size above. You can also buy this version in multi-packs.
Specs for the 6-ft Freestanding Vertical Garden:
Frame Dimensions: 65″ Tall x 30″ Long x 23″ Deep
Planter Size: 26.5″ Long x 9.5″ Deep x 8″ Tall
Weight: 32lbs
Color: Black Frame with Green Bins
Material: Powder Coated Steel, Food Grade Safe Plastic
Package Includes: Plant Stand and 5 Hanging Bins
Model #: 302
Manufacturer: Outland Living, Phone: 1 (888) 514-1663