Best Vertical Garden Kits Under $100
Living Wall Planter + Frame Kit


$85-95
What I like about this kit is that it's super easy, but after your plants have a little time to grow, all you will see are plants in a frame. It's magical. Most people won't know how you created it, and you'll have an impressive work of art that makes you look like a genius!
This kit contains everything you need to start your vertical garden – except the plants and a little bit of soil. It even comes with an irrigator and water collector, so you don't have to figure out a watering system yourself.
The wooden frame (different options available!) is primed and ready to go. You can stain it, paint it or even use chalkboard paint so you can easily label an herb garden.
Vertibloom Living Wall Kit


$45-55
This is a really cool versatile living wall kit that you can set up and arrange in a variety of different ways. Many people get them in multiples so that they can build larger custom-designed wall gardens.
Each kit comes complete with 2 mountain boards on which to hang the planters. It also contains 6 planters in different sizes as well as the hardware needed to assemble it. The special drip tray design keeps walls dry while plants stay happy and healthy. Feel free to use it indoors or out.
The Vertibloom can work well as a vertical herb garden because of the individual containers. For this reason, it makes a great gift. Just add plants and soil.
Vertical Living Wall Planter Frames


$75-95
This vertical frame kit is the perfect solution for people who want to grow a vertical garden – but want to have removable planters. Removable planters means it can be much easier to switch out plants if some die or you want to add new ones as seasons change.
They are easy to hang on a fence or wall, but they also can stand up independently by themselves. I think a row of these planters painted different colors along a bare wall would look really cool and be more impressive than one alone.
This kit comes compete with planters and mounting hardware – and the wood frame is already sealed and weather-resistant. There are a variety of different slots, which let you adjust and change the location of planters as you like. Talk about easy!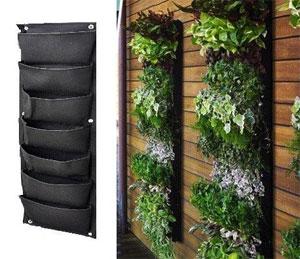 7-Pocket Recycled Hanging Planter



$20-25
If you have shopped around for vertical garden planters before, you are probably familiar with the "pocket planters". These are very popular now because people have discovered how easy they are to use.
Their breath-able fabric helps plants grow healthy, and they are lightweight to hang. Once plants mature with full foliage, the pockets seem to disappear into the background, so plants appear as if they are growing out of the wall.
Another reason that these pocket planters are a hot-seller is that they are affordable. You can get several kits and still stay well under $100.
Self-Watering Vertical Planter


$25-35
If you want to install a simple vertical garden on a fence or outdoor wall but you prefer plastic pots to fabric pockets, this vertical growing system is pretty cool.
The pots are sold in sets of 3, so you can make your living wall as large or as small as you like. These sets can be stacked on top of each other os installed in rows.
They offer a very clean and structured look, and once plants are full-grown, the structure itself is barely visible.