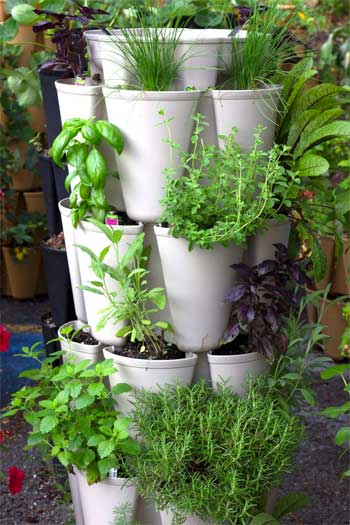 Do you want to grow a lot of fruit, vegetables or herbs – but only have a small backyard or patio?
The 4 1/2 foot tall GreenStalk Vertical Garden has 30 large planting pockets stacked vertically, which lets you grow a lot of plants in a compact space.
The Low Maintenance Garden that Saves You Time and Money…
I addition to making efficient use of your space, the Green Stalk also has its own unique self-watering system. Just pour water in the top reservoir, and the planter irrigates all of your plants evenly. (Talk about easy, right?)
Overall, you can get this entire system for under $150. Plus, you can use significantly less soil. Not to mention, you can roll this portable, freestanding garden to a protected environment if you get harsh weather conditions.
GreenStalk Vertical Gardening System Includes:
5 Planters/Tiers (6 pockets per tier)
4 Grey Watering Disks
1 Top Water Reservoir
You will need 30 plants or seeds of your choice, plus 5 cubic feet of potting mix.
What Can You Grow in a Greenstalk Stackable Planter?
This vertical garden planter is larger than it appears in the photos. For example, it measures 4 1/2 feet tall – larger than most other freestanding 5-tier vertical planters.
In fact, the planting pockets are deep enough to grow full size root vegetables. For instance, you can grow carrots, potatoes, radish, onions or beets.

Alternatively, you can plant large lettuce varieties like spinach, bok choy, kale or cabbage. Not to mention, people have actually grown beans, corn, tomatoes and even baby watermelon using these vertical gardens!
With an add-on support frame, this planter can easily grow large cucumbers, zucchini or squash vertically. You'll be surprised at how much food you can grow in a small space.

Some gardeners have even planted huge herb gardens in GreenStalk Planters. I mean, they have 30 pockets, right? Think basil, cilantro, thyme, dill, chives, lemon balm, etc..
Or try planting a seasonal strawberry garden. Or grow smaller strawberries on the top levels and larger tomatoes on the lower levels. If you have finished harvesting your winter lettuces and broccoli, you'll have plenty of open pockets for a summer harvest. =)
On the other hand, you may decide to just plant flowers. You can either create an intriguing focal point in your backyard or plant a functional variety, like marigolds, to keep mosquitoes away.
How to Plant Your Vertical Garden in 3 Steps:

First of all, the manufacturer recommends using "plant progression". In other words, place the largest plants toward the bottom of the unit with the smaller one toward the top.
Second, you can grow plants from seed or using starters. Treat this planting container just as you would your regular garden.
Third, use plain potting soil. In other words, no special treatment is needed for GreenStalk vertical planters.
In fact, these unique gardens are designed to be ultra low-maintenance.
How to Water Your 5 Tier GreenStalk Vertical Planter:
Simply fill the top water reservoir and GreenStalk takes care of the rest (approximately 2 gallons). The water will then drip down to the lower levels, irrigating each pocket evenly.
Note: You'll probably want to plant varieties of vegetables or flowers that have similar watering requirements. If for no other reason than to keep your sanity. =)
Watering frequency will depend on the plants you grow, the climate and sun exposure. In other words, you may need to water daily or every couple of weeks.
Specs for the GreenStalk Vertical Garden:
Dimensions: 19″ Diameter x 54″ Tall
Empty Weight: 17 Lbs
Filled Weight: Approximately 150 lbs
5 Stacking Tiers
30 Planting Pockets
Material: Food-Safe, BPA-Free Polypropylene Plastic
5 Color Options: Green, Terra Cotta, Brown, Black & Stone
Brand: GreenStalk
Phone: 865-337-7055
Made in USA
Green Stalk Planting Guide & Review:
The video below shows how to insert soil and plants into your 5 tier vertical garden planter. Plus, you'll see how to stack and water the 5-level container.

Towards the end of the tutorial, they show the rolling garden "mover". This accessory doesn't come in the standard kit, but you can purchase it separately for about $35.
If you plan on keeping your vertical garden stationary, you don't need to buy the mover. However, if you want to relocate your garden at different times throughout the year, it can be really handy to have.
Keep in mind that when filled the entire garden can weigh up to 150 lbs. Plus, the video shows how huge the pots really are.