Do you want to grow fruit, vegetables or herbs at home in a small amount of space? The Mr Stacky Planter has 5 levels of stackable pots, and its freestanding design lets you set it up virtually anywhere.

In fact, the included drain saucer allows you to create your own gardening tower outdoors or inside. The strong, lightweight and food-friendly plastic material also makes it easy to move.
1. Easy Watering with Vertical Garden Design:
The entire system enables you to grow 20 plants in a small area. However, watering them is easy due to the strategic "flow-through" design.
Simply water from the top, and the water flows down all levels. You can even connect an automatic drip irrigation system to do this. Excess water drains out of the bottom to prevent roots from getting soggy.
2. How to Grow Even More Fruit and Vegetables in a Small Space:

This freestanding planter also makes a great lettuce garden. Its unique 360 degree design allows leaves to spread out and get more sun. Therefore, they have the potential for faster growth.
In addition, you can stack multiple kits on top of each other and double the amount of your produce. Keep in mind that you can do this without needing more ground space or a larger raised bed.
Now you can see how people in cities or apartments can grow a large amount of fresh food at home. You just need a sunny balcony, patio or deck and only about 1 square foot of floor space.
Idea: Alternatively, you can split the 5-tier pack into pieces and use them in different locations. For example, grow 3 levels of strawberries on your porch and grow 2 levels of herbs on your kitchen counter.
3. Larger Stacking Planters for Bigger Plants:

In fact, some farmers use the Mr Stacky vertical gardening system to simplify irrigation and increase production.
These containers are actually a larger version, although they use the same design. They measure 38″ tall x 18″ diameter instead of 28″ tall x 12″ diameter.
As you can see in the photo, these containers take advantage of lots of vertical space while keeping the ground area clear. (You can create grow towers off the ground using 3/4″ pipe.)
In your backyard, the higher elevation may enable the leaves to access more sunshine too. Not to mention, you can elevate them to make gardening easier on your back.
Idea: If you want a super low-maintenance garden, check out the Mr Stacky Smart Farm. It includes a self-watering hydroponic system that makes growing produce virtually effortless.
Mr Stacky VS Greenstalk: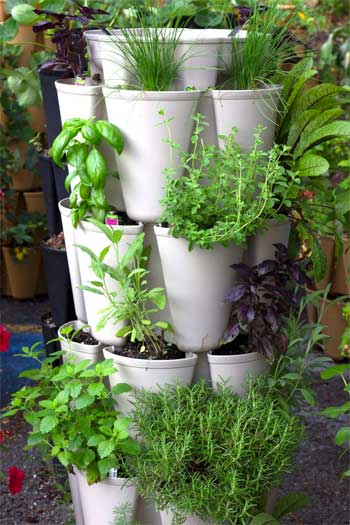 Speaking of bigger containers, you can grow even larger produce using the Greenstalk Vertical Garden. Think squash, melons, cucumber, etc..
Both products contain 5 levels, but the Greenstalk measures 55″ tall versus of the 38″ or 28″ Mr Stacky models.
In addition, each tier fits 6 plants instead of 4. As a result, you can grow a total of 30 plants instead of 20.
But let's get back to Mr Stacky…
What Planter Color is Best?
By the way, these stackable planters come in 5 different colors: terra cotta, stone, black green and now pink. Therefore, you can match the tone to your home or garden, or simply blend in with the color of the leaves.

Note: Keep in mind, however, that the darker containers tend to absorb more sun and thus heat. So, the lighter shades may work better in sunnier locations, whereas the black may work in shaded spots or indoors.
Specs for the 5-Tier Mr Stacky Planter:
Dimensions: Size: 28″ Tall x 12″ Diameter
Soil Volume: 24 Quarts
Weight: 3 lbs
Material: Food-Safe Plastic
5 Tiers
Space for 4 Plants/Tier (20 Plants Total)
Includes Bottom Drain Saucer
5 Colors: Terra Cotta, Stone, Black, Green, Pink
Indoor or Outdoor Use
Review Ratings: 4.4 Out of 5 Stars
Model #: TC5
Brand: Mr Stacky
Customer Support Phone: (386) 219-0943
Made in USA
For Sale: Where to Buy the Stacking Planter