Stacked planter boxes provide a simple way to create a stand-alone vertical garden without having to build one yourself. In fact, you don't need any tools. (Also check out the Stack'n Garden Modular Planters.)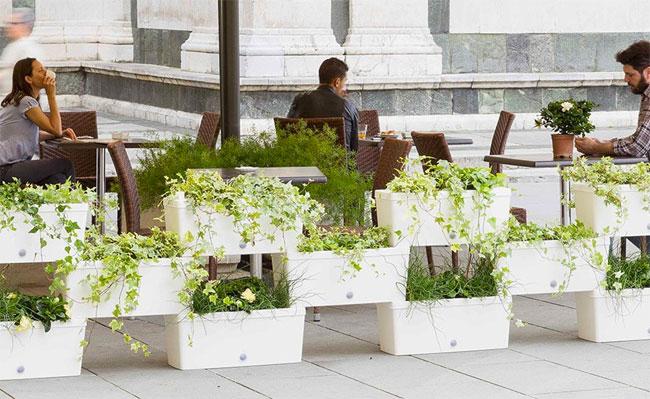 These easy stacking planters can create unique and beautiful living privacy walls. In addition, you can use them to partition a space.
Each kit comes with 5 planters, so you can get as many sets as you want to create a living wall the exact size that you want. Simply stack and connect them together.
I Love the Built-in Self-Watering System:
In addition to having a super simple to set up, this vertical garden requires very little maintenance. In fact, it virtually takes care of itself.
Each container has an irrigation system built right into it. Plus, when you connect multiple planters together, the water trickles from the upper to the lower planters to create a very effective and efficient watering system. Not to mention – low maintenance!

As you can see, mosquitos and other insects can't access the water inside the irrigation system. Therefore, you don't have to worry about inviting more bugs into your yard.
Mosquito Tip: By the way, you can repel mosquitoes naturally in your yard by planting certain types of plants. For example, marigolds, basil, lavender and lemon balm. Although citronella oil helps keep mosquitoes away, the actual plant has not shown to be very effective. (source)
Using the Stacked Planter Boxes Indoors…
Furthermore, the smart design of these "Brick Stack-and-Connect" planters enable you to use them indoors.
The containers don't leak out the bottom because they feature the water-saving reservoirs. Plus, they come with a water level indicator that you can see.
Want a unique living room divider or a vertical garden in your home? This option costs much less than many wall-hung options. Plus, you can set it up yourself.

These modern, modular planter boxes add a lot of style to any space, whether you use them on a patio, balcony, backyard, in an office, kitchen, etc.. In other words, you don't need to create a privacy wall or room divider to enjoy them.
They give you lots of versatility. Install them virtually anywhere, move them around, use them for special events and more.
Plus, they are so well constructed that you can expect them to last many years with little maintenance. In fact, commercial establishments use them as part of their exterior design.
And, as I mentioned above, the practically take care of themselves.
The video below demonstrates how easy it is to set up this vertical garden. Plus, it shows how the irrigation system works, plant and decorating ideas and more.
Get the Planters Here
You'll also notice that many of the design ideas only use 5 containers. Therefore, in many cases, you will only need to get a single kit. That said, you can connect as many kits as you want to suit your needs.
Each Set Includes:
5 Brick planters
2 Connecting Tubes
2 Decorative Panels and Max Water Level Viewers
Specs for Stacked Planter Boxes:
Planter Dimensions: 24″ long x 9″ wide x 10″ tall
Weight: 20 lbs for 5 Planters
Color Options: Cream, Grey or Taupe
Made in Italy