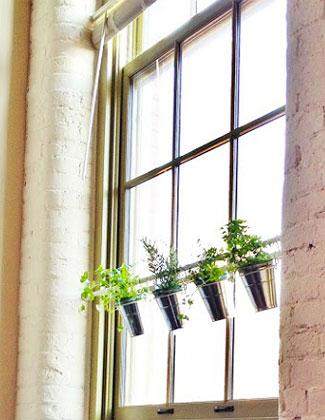 Whether you want to grow an herb garden indoors or want to create a privacy screen outside a window or in your backyard, here is a simple way to do it. I saw this idea on BobVila.com and thought that this DIY window garden ideas was "genius" (not to mention that's what the title on his site says too).
Although it has a sophisticated and modern look to it, this vertical hanging garden consists of just a curtain rod and some hanging caddys from IKEA (and some hooks). It's not only simple, it's cheap. It's also movable and non-permanent (perfect for those of us living in apartments or don't want to build a permanent structure.
You can get inexpensive curtain rods (or even shower rods) that are adjustable, so you can easily custom-fit them to a window frame, between 2 fence posts, 2 walls, etc.. You can also line up several rods lengthwise along a fence – or position several in rows above and below each other to create a cheap-and-easy privacy screen.
Keep in mind that these adjustable rods support themselves through tension and therefore can't support heavy planters. Small metal or plastic containers work great, and spreading them out along the bar works even better to distribute the weight. Want to plant more flowers or herbs? Simply add more rods.

Shower or curtain rods can typically be found at your local home improvement or department stores in a variety of different sizes and colors. You can also get them online for under $10 apiece (not too shabby for a DIY project that doesn't require any hardware or tools!). This Zenna Home 72″ Tension Shower Curtain Rod is shown in brushed Nickel, but it also comes in white, chrome, bronze, bone swirl, cashmere, chrome swirl and white swirl. It's on sale right now for $9.99.
These rods hold up to 30 lbs and can fit spaces between 43″ to 72″. Very versatile, not to mention easy!

For the planters, you can use metal or plastic flower pots, office caddys, tumblers or something similar. If you want to mimic the photo with galvanized steel planters, I've found Ikea to be the cheapest.
You can get a set of 6 of them online for about $20 (FYI, you can also get a set of 3 for about $10). They measure 4″ tall and 4 1/4″ in diameter, so they are not too big for the project.
They don't come with hooks, so you can purchase hooks separately for about 25 cents apiece and drill small holes in the containers (easy with a standard drill bit), or you can wrap twine or cord around the pot as shown in the picture and attach hooks that way. Either one looks pretty cool to me.

The end result is that you can make your own modern and stylish hanging flower pot window garden with 6 hanging pots for under $35 (not including plants). In addition to being cheap (without looking cheap), this is a perfect DIY vertical gardening project for those of us who don't have a lot of time, patience or tools…
Tips:
1. Make sure that you put your planters in well-lit location if your plants require a certain amount of sunlight during the day.
2. Allow adequate drainage for plants that need it. This can be as simple as inserting a smaller pot inside each planter.
3. Check the weight of your garden if you choose plants that grow large or hold a lot of water.