Vertical gardens provide a space-efficient way to grow lots of plants. In addition, a living wall can create a decorative focal point in your backyard, on a fence or along the side of your home.
However, building one can be challenging and time consuming. Not to mention, many find the task overwhelming. That's why I like BloomWall.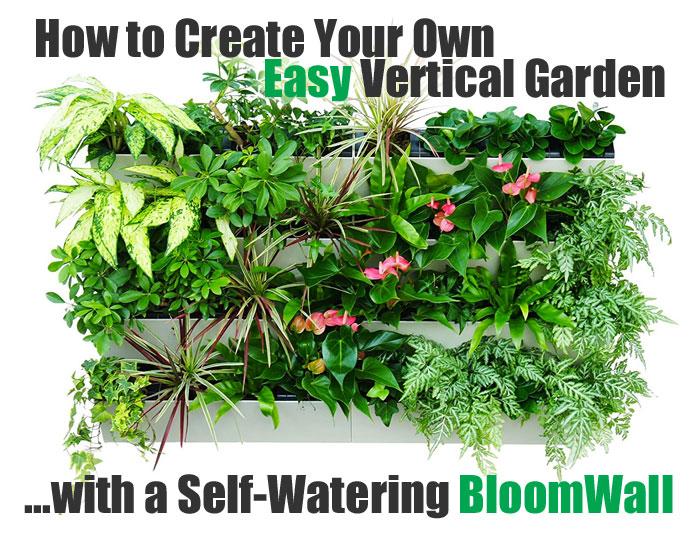 This self-watering vertical planter kit makes planting easy. Setting up the container with your plants is a piece of cake. Plus, the built-in self watering system makes this unit low maintenance.
If you don't want to spend a lot of time gardening, yet you want to enjoy a beautiful wall of foliage, this planter may be what you're looking for.
Ways You Can Use the BloomWall:
Whether you want to decorate a blank wall by your front door, or you want to start a low-maintenance herb garden next to your kitchen, the BloomWall can take on the job. Plant succulents, seasonal flowers, herbs, strawberries, tropical green foliage or something else.
In addition, you can use the BloomWall as an indoor planter. The self-watering system provides drip-free containers, so you don't have to worry about drenching your walls or spilling all over your floor.

BloomWall Package Includes:
1 Plant Rack
4 Pots
Self Watering System
Hanging Wall Bracket
Instruction Guide

Each planter fits 4 plants. Some people buy multiple kits to extend the garden vertically, while others choose to expand the planter horizontally. Decide what works best for your space.
Plants with larger leaves can actually end up covering and concealing the entire planter. Therefore, you can end up with a living wall that looks like it is artistically growing on or out of the supporting wall.

Since each 4-pot planter is self-contained, it makes set-up much easier. Plus, you can essentially customize the size and look of your vertical garden.
Maintenance is even easier! The convenient built-in water lever indicator lets you know when to refill the watering system.
In addition to spending less time watering, you can also enjoy having healthier (and better looking) plants. Worry less about over-watering and under-watering and have happier plants at the same time!
BloomWall Specs:
Dimensions: approximately 22.5″ long x 7″ tall x 7″ deep
Weight: 5.3 lbs