Of course, I love vertical gardens, but you don't always have a fence or wall where you can attach them. This vertical plant stand provides a perfect solution. (Also available in dark grey.)

This vertical garden set-up does not require a wall or fence. Furthermore, it is movable and portable. If you use plants will lots of foliage, this planter makes a interesting and decorative privacy wall on a patio.
I've also seen people use it as an herb garden. You can set it up near your kitchen where it is convenient to access. Plus, you can easily remove the flower pots whenever you need to replant annuals or change the seasoning you're using.


Vertical Plant Stands as Privacy Screen on Patio
Another option is to use trailing or vining plants like English Ivy that grow and cover the entire structure. You can use this method outdoors as a living privacy wall or indoors to cover a blank wall.
As you can see in the photo below, the vertical plant stand can act as a trellis…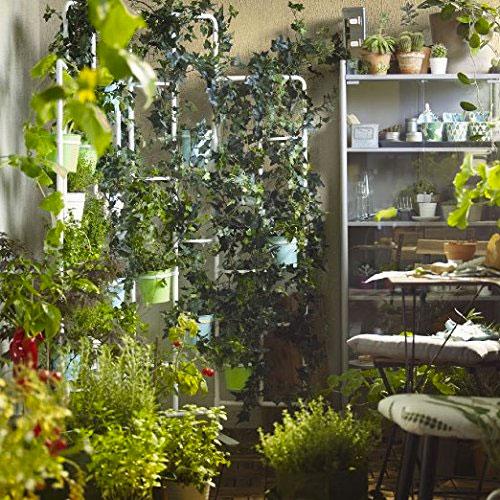 Plant Stand Used as Trellis Indoors
Versatile, Functional & Space-Saving Planter
Because this stand-alone unit is easy to move, you can position it as a wall to separate spaces. Alternatively, you can place it against a wall or in a corner where it will take up very little floor space.
It is both functional and space-saving, which is why many people like it. This kit is ideal for urban gardeners, people who live in small spaces or apartment dwellers who want a plant stand that they can take with them.
By the way, you can use several of these kits in a row to create a larger vertical garden. You can also bend/fold the unit to create a unique zig-zag effect.

This May Be the Cheapest & Easiest Living Wall Kit
Because this vertical planter is low cost (about $60), you can construct a large living wall very inexpensively. The pots are not included in the kit. However, these are cheap to buy at any local garden center or home improvement store.
In my opinion, this may be the easiest and cheapest way to create a living wall. As plants mature, their branches and leaves can grow to cover the frame, and it looks really cool. If you like cheap and easy, you will probably really like this planter kit.
Vertical Plant Stand Specs:
Weight: 19 lbs
Dimensions: 64″ tall x 27.2″ wide x 17.5″ deep
Frame: Steel
Coating: Polyester Powder
Assembly Required
Pots Not Included